Příkady možností komunikace v síti DMR – BrandMeister 
Připravil jsem několik obrázků, jako příklad jak lze využít DMR BM síť převaděčů. Je to jen nepatrný výčet možností.
Pro ty, jenž nikdy nepřišli do styku s DMR vysvětlím několik zkratek.
TS = TimeSlot: DMR systém je TDMA (Time Division Multiple Access) což znamená, že současně mohou probíhat dva hovory. (u GSM jich může být 8)
TG = TalkGroup:  Při vysílání se v datovém streamu mimo jiné vysílá informace o TalkGroup nebo-li hovorové skupině. Je to něco jako CTCSS u FM, jen je jich mnohem více (1-1677215)
ID = identifikace stanice (převaděče) : Každá stanice v síti musí mít jedinečné ID, aby bylo možné směrovat volání. Převaděče mají šetimístné ID, koncové stanic pak sedmimístné. Jedna z nevýhod DMR v radioamatérském použití  je, že podporuje ID pouze v numerickém formátu. Proto musí být jednotná databáze (převodní tabulka) volacích značek a ID. Struktura ID vychází z ITU standardu a je společná pro všechny systémy (DMR+, BradMeister, DMR-MARC, D-STAR)
XXXYZZ(Z)
XXX=MCC (Mobile Coutry Code) http://register.ham-digital.net/prefix-ids.php
Y= Region ID http://register.ham-digital.net/reg-ids.php
ZZ(Z)= pořadové číslo
2306999 – 230=ČR, 6= Jihomoravký, Zlínský region, 999= pořadové číslo
Databáze uživatelů je k veřejně k dipozici zde: http://dmr.ham-digital.net/dmr-userreg.php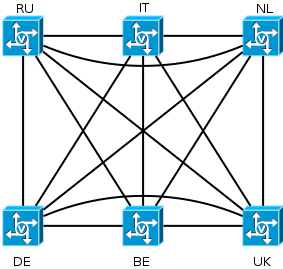 Master: server, ke kterému jsou připojené převaděče. Číslo Masteru je dané zemí (v OK 230) a pořadovým číslem. Každý Master má propojení (FastForward) ke každému dalšímu Masteru v síti.
---
Dost bylo písmenek, jdeme na obrázky: